Hello, fellow wine crafters!
As we start to approach the winter months, I wanted to remind you that the 6-week wine window for ordering your Christmas cellar collection is happening at the end of next week! So if you want to have enough premium wine for your holiday celebrations, be sure to give us a shout over the next few days.

Speaking of deadlines, there is only one week left to pre-order the Restricted Quantities, Limited Edition, and Passport wine series! The 2021 collection offers a diversity of exciting new brews that you won't want to miss. For more information, give us a call and we would be happy to discuss wine pairing options with you.
In terms of a shop update, we will be closed as of Thursday, December 24, 2020 at 2pm until January 5, 2021 for the holidays. Upon re-opening in the New Year, the aid and equipment fee will be $31+HST.
Finally, this month's sale has ALL Cru International wines at $10 OFF! This is a steal of a deal that rarely happens, so I do hope you enjoy the savings this month just in time for the holidays.

Cheers!
Brenda Spencer
Owner, Main West U Brew Wines
November 2020 Wine Specials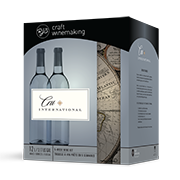 Grand Cru International – $10 OFF!
REDS:
Argentina Malbec Syrah
Australia Cabernet Sauvignon
British Columbia Pinot Noir
Italy Nebbiolo
California Syrah
Chile Malbec
Chile Cabernet Merlot
Italy Sangiovese
Washington Merlot
California Zinfandel
Okanagan Meritage
WHITES:
California Chardonnay
Italy Pinot Grigio
Ontario Sauvignon Blanc
South Africa Chenin Blanc
Germany Gewürztraminer
Germany Müller-Thurgau
California Muscat
PINKS:
California White Zinfandel
French Rosé